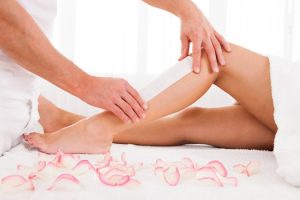 Appointments are required and a $20 deposit is needed to hold the space. The deposit is non-refundable.
Brazilian 65+

Bikini 45+

Full Legs 65+

Half Legs 45+

Full Arms 45+

Half Arms 30+

Underarms 15

Hands 20

Feet 20

Stomach 25

Full Front 45

Full Back 45

Shoulders 25

Buttocks 35

Neck 20

Nose 25

Ears 25
How to prepare for your appointment:
The skin should be clean and dry, with no lotion or oil. You may take an anti-inflammatory/pain reliever of your choice, and caffeine should be avoided before your appointment. The length of hair should be approximately  1/4″ or longer. If you've been shaving, 2-3 weeks of growth is usually sufficient (4+ for the legs), but the more the merrier. If you've been waxing or sugaring, you'll want to wait 4-6 weeks in between your appointments without shaving in between.
Benefits: Minimal pain, Minimal skin damage, Excellent for delicate skin, Zero risk of burn, Minimal breakage, May cause fewer ingrown hairs, Thorough hair removal, Longer Lasting Results, Minimal waste, Completely Hygienic.
We use chemical-free sugar wax for all Brazilian waxing treatments. We use a honey wax combination for all non-Brazilian waxing. Our honey wax is used to remove the small hairs that are not easily removed with sugar waxing. Our sugar wax is safe for your skin and helps your hair grow 50% less. Sugar Waxing is a form of semi-permanent hair removal that removes hair from the root. New hair will not grow back in the previously waxed area for two to eight weeks, although some people will start to see regrowth in only a week. Almost any area of the body can be waxed, including eyebrows, face, pubic area, legs, arms, back, abdomen, and feet.